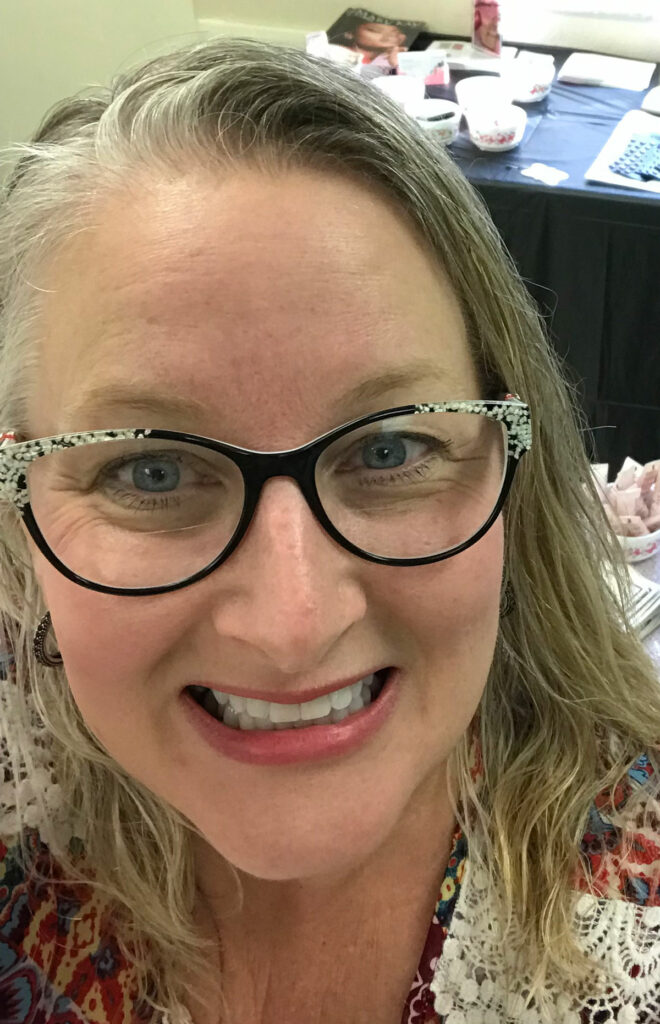 Copiers Plus is lucky to have a group of fantastic employees across North Carolina – from Wilmington to Raleigh, Greensboro, and beyond! Now, we're helping our customers get to know them a little better too with our People Behind The PLUS series.
Robin Larson is a billing clerk in the Fayetteville office and is also the first person to be featured. Originally from Sioux Falls, South Dakota, she's a long way from home, but she's become an important part of the Copiers Plus family. Ready to get to know Robin?
A Bit About Robin
We'll start at the beginning. As mentioned, Robin grew up in Sioux Falls, which rests on South Dakota's eastern border. Here, she attended Washington Senior High and earned her first paychecks by babysitting and waiting tables.
After high school, Robin studied computer programming at Southeast Vocational Technical in Sioux Falls. She went on to explore the fields of child care and child psychology at Central Christian College of Kansas.
Robin has celebrated many personal and professional achievements throughout her life, but the one she's most proud of is raising her daughter. She became a single parent when her daughter was just a year old. Despite the difficulties, Robin said, "I fought hard, worked hard, made some huge mistakes, but I'm still kicking!"
Now, Robin's daughter is all grown up and living in Missouri with her husband and Robin's two granddaughters. In addition to her human family, Robin has a "super judgmental" cat named Guinnivere.
Robin Joins The Copiers Plus Team
Robin's journey led her to Copiers Plus in the fall of 2021 and it was a perfect match from the beginning! She aced her interview to join the Copiers Plus team and got a good feeling about the company's work culture and values along the way.
"My interview went well, and I enjoyed the people I talked with," she said of her initial meeting. "It felt like a nice, friendly environment with real down-to-earth humans."
As a billing clerk, Robin helps to keep the Fayetteville office running smoothly. She performs a variety of office work, bookkeeping, and computer tasks and is always happy to help relieve a bit of the workload from her co-workers. She loves to stay busy and is the ultimate team player, jumping in just about anywhere she's needed. You can count on her to bring a little extra life to the office as well by entertaining her co-workers with her sarcastic wit!
People Make The Company
After nearly two years, the people and environment at Copiers Plus remain some of the things Robin likes most about her job. The people she works with are more than co-workers to her; they're friends and mentors.
In specific, three of Robin's co-workers stand out as mentors: Katrina Jambor, Rose Gibson, and David Smith.
Katrina, who is assistant controller at the Fayetteville office, has taught her a lot. Robin went on to share, "Katrina is also not afraid to tell me when to 'eat a Snickers' when I get out of hand!"
Robin sees Rose as a "gentle handed controller" who keeps everyone doing well and as VP of administration, David "oozes quiet leadership without any roaring required."
Regardless of who Robin is working with, she enjoys the fact that she and her co-workers expect the best out of one another but accept that mistakes happen. In the end, the team always pulls together to work toward providing the best solution for the customer.
The Copiers Plus Difference
A few things stand out to Robin when it comes to what makes Copiers Plus different from other companies. For starters, the company genuinely cares about every single one of their employees, she shared. This sentiment begins with Bob Smith, president of Copiers Plus, and flows throughout the business.
Copiers Plus's values are another way the company sets itself apart, Robin explained. In fact, her favorite memory is when the team joined together in prayer before last year's end of year celebration, called the Niblet. Robin said, "That's what makes us different. Allowing God into the building!"
When asked what the most important thing those outside the organization should know about Copiers Plus, Robin remarked:
"We care about you. We want to make things right and keep things running smoothly. We want to make the customer's work easier."
Outside of work, Robin might be found watching her favorite TV show, Criminal Minds, studying The Bible, enjoying contemporary Christian music, or cheering on the Minnesota Twins. She also loves the beach and, though any beach will do, Robin's preferred vacation spot is Cocoa Beach, Florida.
We at Copiers Plus are thrilled to call Robin a member of the family and hope you've enjoyed getting to know her just as much as we have!