After 28 years at another office technology dealership, Bob Smith saw an industry need for a leader to step up and make serving customers the primary goal. He was disheartened by the "Just Sell" mindset that seemed to being taking over the field. Instead, he wanted to really dial into the customer's challenges, and then provide a solution that best met their demands.

With the needs of the community at the forefront, Bob set out in 1985 to launch Copiers Plus. Upon opening the business, the slogan, "The PLUS stands for service!" was born. In his eyes, "The Plus" stood for a team of individuals, dedicated to supplying clients with cutting-edge technology and efficient workflow strategies, all in a customer-centric fashion.

In the early years, Copiers Plus had one location and was operating on Ramsey Street in Fayetteville. With a small staff, everyone had multiple roles and it was not uncommon to see a salesperson delivering machines in a station wagon. Though the responsibilities were great, attention to detail and the passion to engage with customers planted the expectation seed of superior service. The team realized something that quickly became a founding principle – Care deeply for your clients and work hard to bring them the service they deserve.

By 2000, Copiers Plus had outgrown its original office space, leading the team to relocate to a new building off of Gillespie Street. The move would more than triple the company's operational space. It was a complete step of faith, one made possible by an amazing staff that found great purpose in helping businesses advance on their entrepreneurial journeys.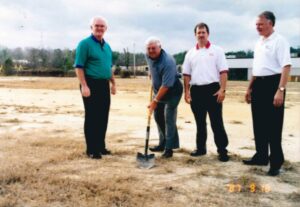 As growth continued in Fayetteville, Copiers Plus began to see opportunities in surrounding North Carolina cities. It was not uncommon for calls to come in, requesting service in areas far beyond the reach of the team. This outside demand for skilled and reliable support inspired Copiers Plus to expand. Led by a mission to provide better service to more people, Copiers Plus spearheaded a second location in Raleigh in December of 2002.

This leap across the state set the precedent for how the family business addressed future expansion. Over subsequent years, offices opened in Wilmington, Greensboro and Asheville. Copiers Plus' broadened footprint allowed teams to respond even quicker to the regional demand for advanced document solutions. After all, accessibility and responsiveness serve as staple features in the company's drive to create a customer-centric experience.

Today, Copiers Plus has grown to a third-generation family business with five locations across North Carolina. The organization serves as a work home to dozens of experts, accounting for more than 700 years of combined experience. It's this breadth of knowledge – along with innovative solutions – that guide Copiers Plus clients to stronger operational and fiscal outcomes.
Want to be a part of our story?
CONTACT US