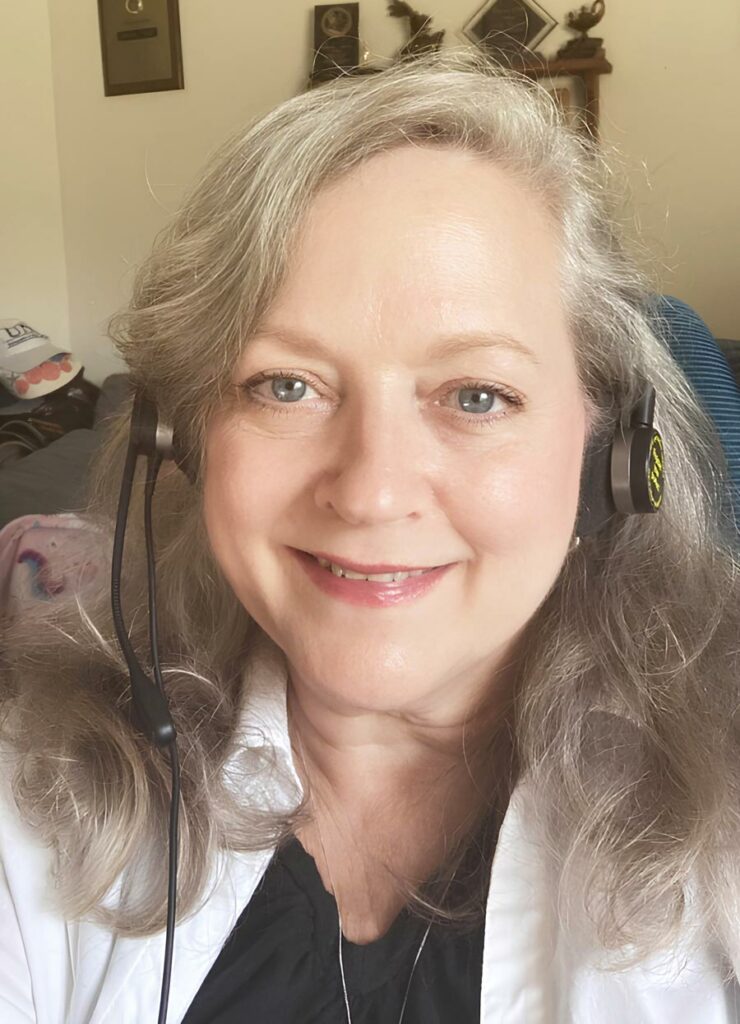 Sherrié Lucas is the sales administrator at Copiers Plus's Fayetteville office. She's also the next person we're introducing as part of our People Behind The PLUS series!
On a daily basis, she helps management and the sales team gather everything they need to assist their clients and is known around the office for her ability to resolve issues. She's also a team player and is always willing to help co-workers or clients out in any way she can.
We're excited to help you get to know Sherrié better and can't wait to tell you more. Read on!
About Sherrie Lucas
Military raised, Sherrié never had a home base growing up; she's lived all over! In fact, she first joined the workforce as a cashier at a golf range on Fort Hood in Texas. She attended Pine Forest Senior High and has since settled down in Linden, North Carolina.
She's most proud of the fact that she's worked hard for her career and her family throughout her life. And when it comes to family, she's got quite the group! In addition to her husband, Randy, Sherrié's blessed three children – Brad, Brandon, and Mechelle - as well as two grandchildren, Chase and Chelsea, a cat named Bobcat, and a puppy called Gracie.
Sherrié's path to Copiers Plus actually began at Monroe Systems for Business. There, she worked with Copiers Plus's founder, Bob Smith. When he opened Copiers Plus, Sherrié joined the team just to continue working with him!
It turned out to be a great decision. Sherrié shared that her favorite memory over her time at Copiers Plus has been watching Bob walk from office to office each day to greet everyone with a "Good morning!"
The Copiers Plus Way
As sales administrator, Sherrié is outstanding at keeping the sales process flowing. She's willing to do whatever it takes to help her co-workers better assist customers, a trait that fits perfectly with Copiers Plus's company-wide commitment to superior service.
She regularly assists sales reps with getting their documents completed correctly, funding deals, and a variety of other tasks needed to help them generate leads. In addition, she supports the management team in getting the data they require to do their job. In other words, if you need it, Sherrié will help you get it!
Sherrié enjoys the challenge of resolving issues and helping her team in as many ways as possible. And she knows that her dedication to these things is just one more way to ensure each customer has an excellent experience, a value that leadership has instilled throughout the company.
"Bob Smith taught me that service to the customer is the most important thing," she said, "and that your employees are your most valuable asset."
Speaking of employees, Copiers Plus's care for its crew is another reason Sherrié is glad to be part of the family. She's found that what makes the company's work culture different from other places where she's worked is the fact that the owner makes it his business to know you and really cares about the individual needs of each employee.
The company's culture of care extends to its customers as well. Sherrié explained that if there is one thing she'd like individuals outside of Copiers Plus to know, it's that the company truly cares about their customers. They strive to do everything possible to make each client's job easier and their workplace more efficient.
As for Sherrié's biggest accomplishment at Copiers Plus? When asked, she said, "My biggest accomplishment over the years is making whatever Bob asked for happen!" Now, that's dedication!
Outside of work, Sherrié enjoys listening to all kinds of music, indulging in Thai food, watching Friends reruns, and reading The Bible. Though the best trip she's ever taken was to Germany, she describes her perfect Saturday as a fall afternoon spent relaxing, shopping, and taking in the sights, sounds, and delicious cuisine of a waterside town.
We at Copiers Plus are so glad that Sherrié found her way to our team. She's a friendly face and helping hand around the Fayetteville office and we're thrilled to call her one of the People Behind The PLUS!