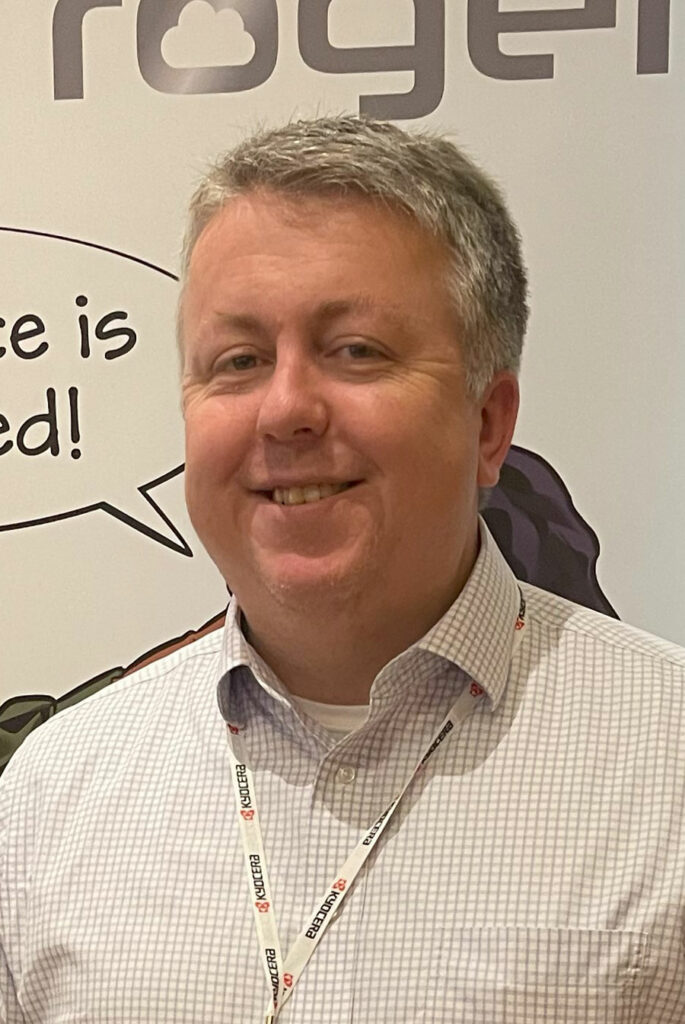 Here at Copiers Plus, we're grateful to have an ever-growing list of fantastic employees. Roger Miller, who has been with the business for nearly a decade, is certainly one of the many names on that list.
Roger is a Document Solutions Specialist at our Fayetteville office. Here, he assists clients in uncovering pain points and provides solutions that help them produce and move documents. He brings to his job a sincere and honest passion for helping others, which is evident in everything he does.
But before we dive into Roger's day-to-day at Copiers Plus, let's get to know him a little bit better…
Meet Roger Miller
Originally from Belton, Missouri, Roger now calls Raeford, NC, home. He lives here with his wife, Stephanie, whom he married in 2012. Together, the couple has two children, Henley, who just turned nine, and Hudson, who is six. Rounding out the family is the Miller's Schnoodle, Harvey Spector.
After high school, Roger attended Appalachian State University to pursue an undergraduate degree. He went on to receive a master's degree from NC State in education, focusing on curriculum and instruction.
Roger put these degrees to work in the Cumberland Country School District, where he was an educator for 10 years. Though this was his first job as an adult, he still has fond memories of his very first occupation. In his teenage years, Roger worked as a baseball field crew member and loved it!
Ultimately, Roger's ability to form lasting connections is what motivated him to pursue a different career path with Copiers Plus. "After 10 years in education," he said, "it was time to put my skills in relationship building to work in this field, delivering relatable, winning solutions for people just like me – hard working professionals."
Finding Success At Copiers Plus
Roger joined the Copiers Plus team in the summer of 2015. His very first month on the job proved that he'd made the right decision in switching career paths. He remembered, "I asked a lot of questions, learned a lot, and helped eight different businesses with office equipment that month. I was hooked!"
Some eight years later, Roger is still just as passionate about helping businesses in his community through his work as a Document Solutions Specialist. His charismatic personality, commitment to finding the right solutions, and knack for forming long-lasting relationships all contribute to his success, and he appreciates that Copiers Plus's work culture allows him to continue growing. "For the first time in my career, it's nice to be able to say: The harder I work, the more successful I am!" he expressed.
However, Roger is quick to note that those who came before him laid the foundation for what he does every day at Copiers Plus. For example, Doug Brisson. Doug is a Senior Account Manager at the company's Fayetteville location, as well as one of Roger's workplace mentors.
Another thing Roger enjoys about working for Copiers Plus is the company's focus on treating its employees like family. Roger explained, Copiers Plus cares about each individual employee and backs them 100 percent:
"Every day I go out with the full support of a great company behind me and do my thing," he said. "I get in front of people and form long-lasting relationships."
And when it comes to doing his thing, Roger's got that down to a science. He adds value to the Copiers Plus team in numerous ways, but what he considers to be his most significant contribution is his commitment to the client. "It's all about the customer," he revealed. "People buy from people they trust. I show up every time."
Though Roger has experienced many achievements over his years at Copiers Plus, he knows the best is always yet to come. When asked what he considers his biggest workplace accomplishment, he replied, "Whatever I do today…and then tomorrow."
When he's not hard at work for our customers, you'll likely find Roger spending time with his family, or maybe rereading his favorite book, Tuesdays with Morrie. He is also a sports enthusiast and loyal fan of the Kansas City Chiefs, Royals, Kansas Jayhawks, and every App State team out there.
At the end of the day, he's most proud of the life he's built. He said, "I'm blessed to have a loving family, solid foundation at home, a great job, and freedom to do some fun things from time to time."
Hasn't it been fun getting to know Roger?! We think so and hope you've also enjoyed learning more about him and his outstanding efforts as part of the Copiers Plus family!